GARDEN GROWS TO NEW HEIGHTS AT ST. JAMES
July 2015. Reposted from http://www.vernonmorningstar.com/lifestyles/311514571.html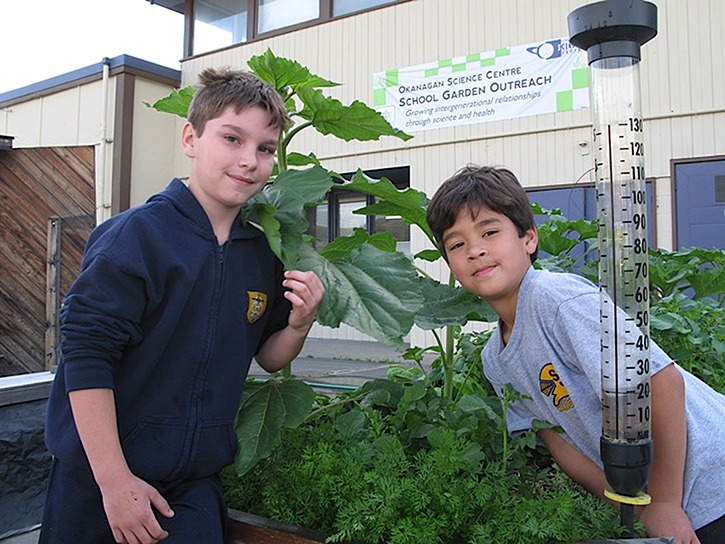 School may be out for summer, but the  garden boxes at St. James are still overflowing with good green things to eat and the students are now full of new knowledge on how to grow, prepare and enjoy local produce.
"It's really cool having all these plants," said St. James student Dominick Kitzman. "We already ate some radishes and we have beans and potatoes and really big sunflowers."
Fellow student James Lockwood, who lives on a farm, shares his experience and advice.
"We fertilized with cow manure and that seemed to help things grow a lot. And we make sure we water things the right way. The carrots are almost ready now."
The gardens are part of the School Garden Landed Learning program started by Dr. Linda Peterat, professor emerita at the University of British Columbia, who initiated the Landed Learning project at the UBC Farm in Vancouver.
The Vernon program is run with the Okanagan Science Centre and local volunteer master gardeners serve as advisors.
The junior gardeners in this particular project come from teacher Heidi Routley's Grade 3 and 4 class at St. James School.
"The children love the program and it fits in well with the science curriculum and includes some other subjects," said Routley, who will be tending the garden over summer break.
"Each session starts with a science lesson with Carla Glessing of the Okanagan Science Centre. She has done things like have them look at cells and roots with a microscope. Then we come out to the garden to weed and water and take care of things. We have already eaten some of the produce and we will have a harvest dinner in September."
The students have also learned how to identify native plants that can be safely eaten and about other crops that grow locally. Volunteer nutritionist Jan Hillis provides the lessons on nutrition and recipes. Students are encouraged to try things that are new to them.
"My child was eating dandelions. I can't get him to eat greens at home," laughed parent volunteer Jan Barnard.
Students also tried rhubarb iced tea and leeks, and made their own granola and bean sprouts.
There's always something new to learn.
"I like to learn about the insects, what's good, like lady bugs and butterflies and bees and worms and the ones that eat your garden like beetles and maggots. You always want to know if there's bad insects in your garden because they can kill your entire garden and you have to know how to get rid of them," said Kitzman. "We all really like having this garden here at school."
LANDED LEARNING CHILDREN BECOME FOREST EXPLORERS WITH GRANT FROM TD FRIENDS OF THE ENVIRONMENT
June 2015
With support from TD Friends of the Environment and a partnership with UBC students studying Place-Based Learning, the Intergenerational Landed Learning Project is piloting a new program to help children and youth connect more closely with Indigenous forest ecology. The Forest Explorer backpacks were dreamed up by UBC graduate students Sonia Woodman and Brynne Clark. As part of their practicum in EDCP 532, the grad students helped Landed Learning  develop curriculum to engage Farm visitors more closely with the Indigenous plants and the cultural history of our land. Woodman and Clark went above and beyond the curriculum development requirements of their projects to seek funding from TD Friends of the Environment so that Landed Learning could make resource backpacks that groups can use for self-guided hands-on activity tours.
The backpacks are full of curriculum ideas and observational tools, such as hand lenses and guide books, to help children and adults slow down and observe the native ecosystems that are increasingly rare in our urban environment. Teacher Nimi Sandhu and her students from the University Hill Secondary School Me to We club helped put together the backpacks and pilot the activities. Children and volunteers participating in Landed Learning are loving the opportunity to connect with the wonderful plants and animals in the forest, and are learning to care for and protect our ecosystem. Landed Learning hopes to be able to check the backpacks out to groups visiting the UBC Farm in the near future.
LANDED LEARNING'S FARM-BASED EDUCATION FOR KIDS WINS TOP AWARD FOR SCIENCE PROMOTION
June 2014
The Intergenerational Landed Learning Project was the recipient of the 2013 Natural Sciences and Engineering Research Council (NSERC) Award for Science Promotion.  Landed Learning has earned national recognition for bringing generations together to learn the science behind growing healthy food and the role of sustainable agriculture in a healthy environment.
This $25,000 award honours groups who are inspirational in the way they promote science and engineering to the general public. Nominated by their peers across Canada, the winners stand out for their work explaining science to lay audiences, and encouraging young Canadians to pursue careers in the natural sciences and engineering.
NSERC representatitive, Rick Warner, presented the NSERC Science Promotion Award to the Landed Learning teams from UBC and the Okanagan Science Centre on June 12, 2014 at Edith Cavell Elementary School. Other attendees included UBC Faculty of Education Dean, Dr. Blye Frank, and Head of the Department of Curriculum and Pedagogy (EDCP), Dr. Peter Grimmett.
LANDED LEARNING VOLUNTEER, CHARLOTTE ROTH, RECEIVES THE SLONECKER AWARD

October 2013
With gratitude and admiration we recognize Charlotte Roth, recipient of the Slonecker Award for outstanding volunteer contribution to UBC.  Charlotte has been a Farm Friend with the Intergenerational Landed Learning Project since 2003.  Her compassion, patience, and wisdom have inspired dozens of children to grow their own food, enjoy eating veggies and fruits, and care for the land that sustains us.  Established in 2001, the Slonecker Award is presented annually to a volunteer who has contributed outstanding leadership and service to UBC over a sustained period of time.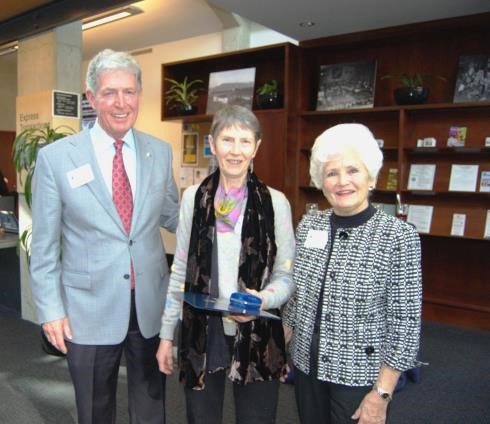 LANDED LEARNING CO-FOUNDERS RECOGNIZED BY EECOM WITH "OUTSTANDING POSTSECONDARY INDIVIDUALS" AWARD
May 2012
Co-founders of the Intergenerational Landed Learning Project, Professor Jolie Mayer-Smith and Professor Emerita, Linda Peterat received the 2012 Canadian Network for Environmental Education and Communication (EECOM) Award for Outstanding Postsecondary Individuals for their work in developing innovative environmental education programs and fostering knowledge of ecological principles and ethics.  This award recognizes Drs. Mayer-Smith and Peterat for their collaborative work in providing 10 years of innovative programming and leadership in environmental education and communication through the Landed Learning  on the Farm for the Environment project, which celebrated its tenth anniversary on Saturday, June 2, 2012.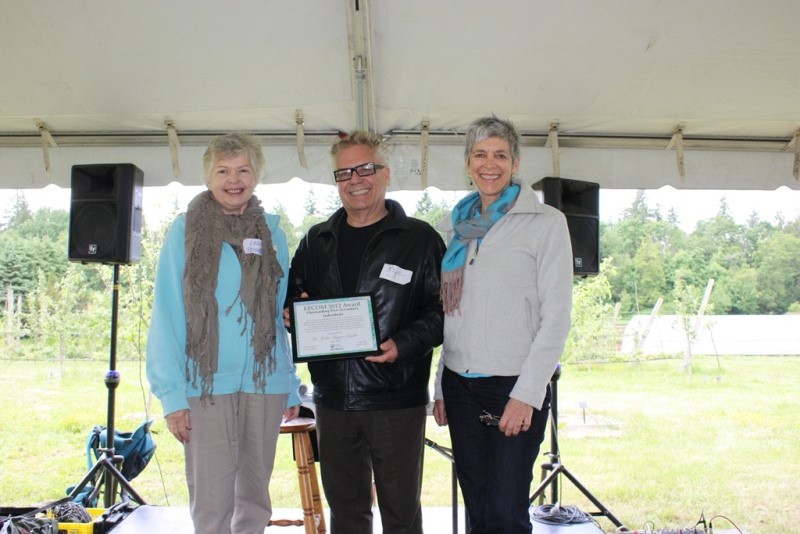 LANDED LEARNING PROJECT RECOGNIZED BY THE CANADIAN COUNCIL ON LEARNING
October 1, 2009.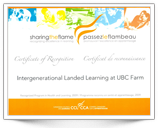 The Intergenerational Landed Learning Project received the Canadian Council on Learning's (CCL) Sharing the Flames Award for its contribution to excellence in learning about health and the environment.
LANDED LEARNING PROJECT WINS COMMUNITY CHAMPIONS AWARD
April 30, 2009.
There is no other group that enjoys coming to the UBC Farm more than children. These kids from Tyee Elementary School had so much fun visiting the farm throughout the year that they decided to nominate the UBC Faculty of Education-run Intergenerational Landed Learning Project for a BC Hydro Community Champions Award. The project won a $500 prize and that meant the children got to come back to the farm to help present the award and learn more about growing food and environmental responsibility!