Director
Before joining UBC I was a classroom teacher and also worked as a marine educator and park naturalist. These experiences prompted me to pursue a MA and PhD in Science and Environmental Education. I teach elementary science methods as well as courses in communications, environmental learning, and research methods. I enjoy working with Teacher Candidates and undergraduate science students in my role as Faculty Advisor with the Teacher Education Office. My research focuses on elementary science, environmental education, and teacher education. I view myself as a naturalist, scientist, and educator of, for, and in the environment; I am a passionate advocate for learning experiences that nurture our sense of wonder for the human and more than human world.
Project Team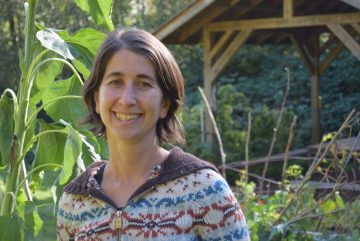 Stacy Friedman is the Project Manager for the Intergenerational Landed Learning at the UBC Farm, and Sustainable Opportunities for Youth Leadership (SOYL). A certified teacher and facilitator, Stacy works with children, university students, seniors, elders and other community members to care for the land, grow, harvest, cook, and eat together at the UBC Farm.  She believes food connects us all and helps us understand our responsibilities to ourselves, each other, and to the Earth.  She is fascinated by botany and the diversity of the plant world, loves engaging communities in learning and acting together, and finds fulfillment in preparing and sharing food with others. landed.learning@ubc.ca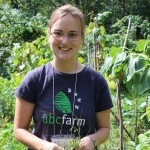 Kailee Hirsche is the Garden Coordinator of the Landed Learning Project. Following high school, she moved from a hay farm in Alberta to a pecan farm in Georgia to pursue an internship in organic garden gardening and child care. Since that time, she completed two Sustainable Food Production internships, Permaculture Design and teaching certificate courses and an Organic Master Gardener course at O.U.R. Eco-Village on Vancouver Island. She also holds a Bachelor of Science in Global Resource Systems from the faculty of Land and Food Systems at UBC. Her interests include the stories behind the things and places we encounter every day. She is excited to bring both her passions for working with children and plants to the UBC Farm.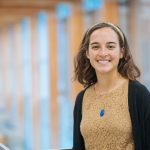 Tori Ostenso is the Foods Educator for the Intergenerational Landed Learning Program at the UBC Farm. She is a Master's student in Integrated Studies in Land and FoodSystems. Before coming to UBC, Tori was involved in food-based learning projects at Carleton College in Minnesota, USA. She managed the2-acre student organic vegetable farm, taught cooking classes to youth, and developed the Farmer to Family program, a mobile vegetable market aimed at making local food and culinary workshops available to people in low-income neighborhoods. Tori aspires to cultivate nourishing relationships between people and the foods that we eat. She is so happy for the opportunity to help guide children along in their journey with their relationship to food.
Elizabeth Beattie is a doctoral candidate in the Department of Curriculum and Pedagogy, Faculty of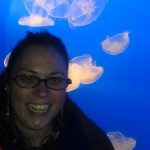 Education, University of British Columbia.  She is the Graduate Research Assistant at Landed Learning.  Her research at Landed Learning is focused on the students' learning experiences — what they find engaging and interesting about learning in the garden community. Her doctoral research focuses on how students create meaningful outdoor environmental and science learning experiences, with an emphasis on early childhood education.  She hopes to work with teachers and curriculum planners to incorporate outdoor learning into the standard curriculum, to promote meaningful, active, relevant, student-driven learning, teaching, and assessment.  Elizabeth grew up in Toronto, but fell in love with the West Coast when she moved there to do her undergrad.  She likes paddling, baseball, red wine, cats, and mystery novels.
Mary Kostandy is the Web Assistant for the Landed Learning Project. As an educator
herself she is quite inspired by the diversity of hands-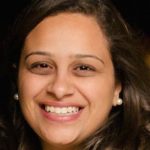 on learning opportunities available in the landed learning project for children, youth, and adults. She is excited to learn more about how the children experience farming and outdoor learning. Mary's role builds on her past experience as a K-12 Information Technology teacher and instructor for educators in Egypt (where she was born and has lived). Building on her background in Computer Science, Mary finds much joy in teaching students to create their own websites and explore a range of digital media tools as well as supporting educators integrating technology into the classroom. Mary is currently a doctoral student in Educational Studies at UBC. Her research focuses on public school teachers' professionalization policies in Egypt.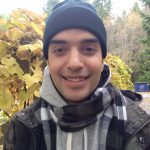 Mario Parent is the program educator for the Landed Learning Indigenous Education Program. He identifies as Nisga'a from his mother and of European settler ancestry from his father. Currently, Mario is in his third year at UBC in the Gender, Race, and Social Justice program. His commitments are to uphold anti-racist and decolonial values by way of Indigenous guiding principles and frameworks
Project Advisors:

Jolie Mayer-Smith is Professor Emerita in the Department of Curriculum and Pedagogy and Co-Coordinator of Science Education Programs in the Faculty of Education at the University of British Columbia. She holds a B.Sc. and M.A. in Biology from Stanford University (1971, 1972), and a Ph.D in Science from the University of British Columbia (1978). She teaches courses in Curriculum and Instruction for pre-service teachers and graduate courses in Teaching and Learning and Research Methodology. Her research and writing focus on teacher education, postsecondary science teaching and learning, environmental education, genetics education, and the application of digital technologies in science education. She initiated and directs the Intergenerational Landed Learning Project, which examines how to cultivate environmental stewardship in young people. jolie.mayer-smith@ubc.ca

Linda Peterat is Professor Emerita of Curriculum Studies, in the University of British Columbia.   She holds a B.Sc., B.Ed., M.Ed., and Ph.D. from the University of Alberta. She has directed the home economics teacher education program and graduate programs at UBC and taught graduate courses in curriculum studies and research methodologies. She was co-creator of the Intergenerational Landed Learning Project in 2002 and co-director until 2007. She now resides in Vernon, British Columbia where she retired in 2006, and directs an Intergenerational Landed Learning Program in the Xerindipity Garden at the Okanagan Science Centre. She is currently Program Developer for the Okanagan Science Centre, Vernon.
Past Team Members:
Winnie was introduced to the world of food sustainability in the summer of grade 10 when she took part in the Sustainable Opportunities for Youth Leadership (SOYL) summer gardening program and credits it for inspiring the educational path she's on currently, studying in the Land and Food Systems Faculty at UBC.  Having experienced first-hand both the positive impact that SOYL has on youth and their personal leadership, sustainability, and food literacy skills, Winnie was grateful for this opportunity to give back as a SOYL Program Facilitator. By sharing her passion for food sustainability through SOYL, she aimed to inspire a new crop of growing youth! Other passions Winnie dabbles in her spare time include honing her gardening skills by messing around in her mom's backyard garden, exploring the BC wilderness, creative writing (on a personal blog she's very poor at updating) and consuming LOTS of online videos.
Diana Perez is originally from Lima, Peru, Diana grew up in a culture with a deep respect for nature. Diana served as the Multimedia Education Assistant of the Landed Learning Project and was so happy to be able to reconnect with her roots working at the UBC Farm. She is an avid traveller and has lived in four countries and travelled to over fifteen in four different continents. Diana is also very passionate about technology and design and loves having the opportunity to teach children at Landed Learning about the exciting possibilities that technology brings us and guide their eyes to see the beauty in the garden through photography. Her past experience includes work in communications, digital media, and design for non-profit and student-led organizations. She is currently wrapping up her BA in Sociology at UBC and aspires to keep working at the intersection of people, technology, and social justice after graduation.
Thanushi Eagalle is an avid urban gardener, who recently moved to British Columbia from Guelph, Ontario. She served as the Landed Learning Research Assistant, where she captured all the wonderful moments shared amongst Landed Learning staff, farm friends, teachers and students. She teaches students about photography and blogging (https://www.instagram.com/landed_learning/).Thanu previously completed her BSc in Zoology and MSc in Evolutionary Biology at the University of Guelph. Currently, she is part of the MMEd program at UBC, studying how to teach in informal learning environments.
Jisun Choi is a first year student in the EDST master program in UBC, she taught elementary school students for 10 years in South Korea. Her passion about youth education and nutrition education brought her to the Food Assistant position with LLP. Her goal is to develop and implement healthy food and environmental education curriculum so that younger students would reconnect with land, healthy food and broader their perspectives.
Tathali Urueta-Ortiz completed her PhD in the Department of Curriculum & Pedagogy, Faculty of Education at UBC. She holds a master in Science Education from UBC, and a Bachelor of Science from the National Autonomous University of Mexico (UNAM). She was a research assistant and former coordinator of the food component of the Intergenerational Landed Learning Project on the Farm for the Environment Project at UBC. Through garden-based learning she combines her passion for science, education and food.
Oksana Bartosh holds a PhD from the Department of Curriculum and Pedagogy, UBC. She served as a Graduate Research Assistant to Landed Learning Project, helping with data collection and analysis, and website development.
Carla Turner was the Foods Educator for the Landed Learning Project while a UBC student in the Food and Environment Program, and has a background in gardening and nutrition.
Samira Thomas was the Communications Coordinator and Graduate Research Assistant for the Landed Learning Project.
Tamara Brown is constantly in awe of food's ability to foster community, forging bonds among diverse people, with the land, and with ourselves. They have been working with the SOYL youth program since the summer of 2014, seeing firsthand the incredible self-empowerment, leadership and food system awareness that youth can gain from growing food. As a UBC student in Sociology and Gender, Race, Sexuality and Social Justice studies, they come at food from a food justice perspective and a desire for "good food for all".
Janine Scheffler iis a fourth year student in the Food Nutrition and Health major at UBC, Janine's passion resides in nutrition education, which is what led her to the Foods Assistant position with LLP. She is involved with various food literacy organizations and thoroughly enjoy interacting with elementary students during the workshops. Her goal is to develop and implement nutrition curriculum into the education systems, to promote sustainable, healthy eating to younger generations.