VOLUNTEER WITH US!
Are you passionate about
LAND, FOOD, and COMMUNITY?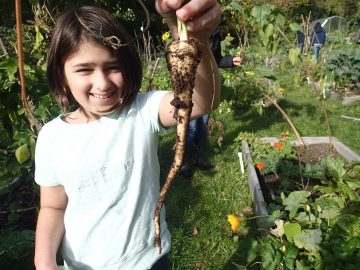 Volunteer with Children as a
LANDED LEARNING FARM FRIEND!
The Intergenerational Landed Learning Project invites adults who care about land, food, and community to volunteer as "Farm Friends" and garden with school children at the UBC Farm. Farm Friend volunteers work in intergenerational teams of one elder, one younger, and 3-5 elementary students to sow, grow, harvest prepare, and eat food crops at the UBC Farm.
Farm Friends commit 13 mornings (Wednesday or Thursday, approximately every other week) from late September-June to work and learn with their Farm Friend teams. Seniors particularly sought! On-call volunteers are also sought to fill in as needed and are encouraged to apply at any time throughout the year.
Participants enjoy the company of a diverse, multi-age group interested in the environment and land-human-food connections while spending time in a wonderful, peaceful, urban farm setting. Volunteers are also invited to join in a variety of additional community-based opportunities for learning about land issues and food growing.
"Farm Friends" may be asked to participate in an educational research study that is a part of this project.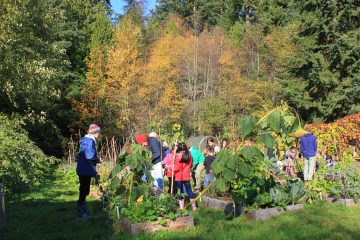 Email landed.learning@ubc.ca
Call 604.822.4842