[column size="10″]
Tell me a bit about yourself. What do you do outside of Landed Learning?
Esperanza: I am a biologist, and I work at UBC doing research.
How did you first hear about Landed Learning and what motivated you to get involved?
Esperanza: When I moved to Canada one of the things that I missed the most was my garden. So initially I started volunteering in the Urban Farmers program; I realized I was not familiar with all the crops, the weather was very different, so I was feeling like I didn't know anything about the garden. I started taking some gardening workshops offered by the City of Vancouver and it was there when they suggested me to come to UBC Farm. Even though I knew about the Farm it never came to my mind that I could come volunteer here. So I started volunteering with the Urban Farmers program and at the UBC Farmers Market for a while; a couple of times I saw the groups from the Landed Learning Program coming and I wondered what was going on there. I read about the Program on the website, and finally, I decided to start volunteering with ILL.
What do you think is the value of this program being intergenerational? What is the value that you get from working with children and another adult partner and what do you think is the value that children get?
Esperanza: I think this is one of the greatest ideas of the program, to have people of different ages. In the sense that we approach things in a different way. Just simply because of the experiences that we have had.
What I like the most about the program and what I think it's relevant to everyone who participates, not only us but also the teachers and staff, is what I call the human experience. While the children get valuable information from formal teaching and at home, what we do here adds contextual value. When they are side by side with another person in the joy of discovery, when they see their seeds finally sprouting, there's a special value to that.
The human experience is what gives the knowledge a totally different dimension. It's not the same when they do it by themselves. When they have a partner, we did this together. It's building a link, a very precious link with someone. I think this is so important these days when we really do not have real human contact. They are building up a relationship with community members, that is the human experience.
What we do here at Landed Learning is often considered as non-formal learning or education that happens in non-formal environments, what do you think are some of the most important features of this program that make it so unique and add value to formal education?
Esperanza: For me, something important to point out is that when people hear the idea of learning in non-formal settings, they think that means informal. But it's really a lot of work, precisely because it has to take into account so many additional things, that the content is appropriate for the children's age, that it is consistent with the goals of the school program, that it matches the interest of the teacher and the way the teacher is going to teach certain things. I'm always amazed at how this is organized. In terms of what this gives to the kids, as I said before, in my opinion, we all learn better when there is some meaningful context for us. This is meaningful in the sense that there is an emotional connection, that part of belonging, that part of the responsibility of their own garden bed. But more than anything, at least in this program, the kids also feel that they are part of the community. They can identify themselves as a key element in the program. They know that their presence is valuable and they feel proud of it. So that sense of what I do matters, what I do makes a difference, what I do really can contribute to improving this world. I think that is something really important. This is a community and I think that's what adds a lot to the learning of the kids.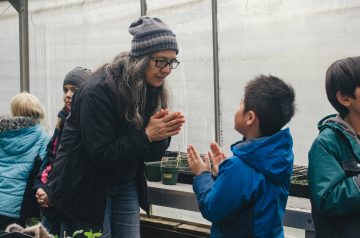 What's your dearest memory volunteering with us?
Esperanza: I have many good memories. A couple of years ago one of the kids really didn't want to be around the bees and he literally was sweating and he was telling his friends "I don't want to go to the beehive, I don't want to go." He was just grabbing my arm and I said "You don't need to do anything that you really don't want to do. Even if everybody's going, you should not feel forced to do it. Only if you're really curious and you feel safe." So he said: "If I go there, would you go with me?" And I said: "Yes, of course! But only if you really want to, and what we can do is approach the beehive little by little and you tell me when you want to stop." So he took my hand and he was very tense at the beginning, he was holding me very strong, but little by little his hand started loosening. And then he said, "you know, I think I can wear a suit". So finally he wore a suit and we went as close to the beehive as everybody else and he was calm. At the end of the term, the students gave us a farewell letter, and he wrote something like: "You made me feel brave that day". These connections that we built here and this trust are the most important memories for me.
In one or two words, how would you describe this program and what it means for you?
Esperanza: Sharing, Caring.
What would you say to someone who was considering volunteering with Landed Learning?
Esperanza: I've already been telling a lot of people that this is a great opportunity, for you to recover contact with the land and to be part of something that it's great!
Interested in Volunteering as a Farm Friend?